Holiday Ball Sponsorship Gifts!
Posted: 12/3/2019
No time to waste!  Get Registered Now for the 33rd Annual US Service Academies Holiday Ball!
We, here at the USNA MO-KAN Parents Club, just wanted to let you in on some of the great SWAG and raffle items that will be available to give out on the night of the Ball!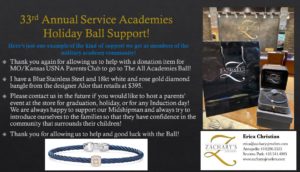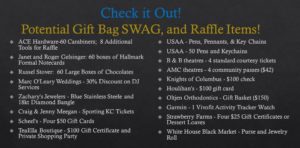 So…if you haven't registered yet, please do so soon! We want to get you all signed up by this Friday Dec. 6th, in order to ensure your midshipman/cadet's name is in the Program, among some of the other logistics that need to be taken care of.    <<<<<<<<<<<<<<Scroll down for the Event Details and Registration Link!!!>>>>>>>>>>>>>>>
Thank You!
Best Regards,
USNA MO-KAN Parents Club
Ball Planning Committee
«
Amazon Smile Program