33rd Annual All Service Academy Ball Sponsorships
Posted: 9/11/2019
We are looking for Sponsorships for the Upcoming Holiday Ball!
The common mission of the U.S. Service Academies is to develop future military leaders of character. The most promising young men and women of our country are accepted into the United States Naval Academy, Air Force Academy, United States Military Academy, West Point, Merchant Marine Academy & the Coast Guard Academy. There, each are thoroughly trained academically, physically and mentally to serve as leaders of our Armed Forces. Each have chosen a difficult path filled with unbending regulations, extraordinary physical demands and relentless academic requirements. At the end of four years, they will be commissioned officers and will serve in defense of our great nation.  For a closer look at their preparation, click here.
It is a tradition across America to honor these young men and women at an event during the holiday season to thank and encourage them for their sacrifice, dedication and patriotism. The Service Academy Parents Clubs serving Missouri & Kansas will honor the Midshipmen & Cadets at a military ball scheduled for December 27, 2019 at the Arrowhead Stadium Club.
We are asking businesses and individuals to help us sponsor this patriotic event. In doing so, you enable Cadets and Midshipmen to attend a memorable evening featuring an inspirational presentation, great food and plenty of camaraderie. Your contribution will also provide the means necessary to send every Cadet and Midshipman home with a meaningful gift bag as an additional thank you.
Here are the sponsorhsip levels and benefits: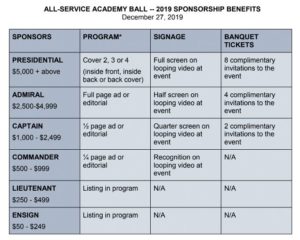 Donate via PayPal Here!  Or Scan this QR Code:

If you choose to write a check, please send it to:  USNA Mo-Kan Parents Club, 14001 Lucille St., Overland Park, KS 66221
*Donations must be received by December 5th in order to receive recognition in the event program.  If donating at the Commander level or above, submit company logo for program publication and signage to cheryldrn@gmail.com by December 5th.
«
All Service Academies Holiday Ball Announcement